Introduction¶
LimeSDR Mini is low-cost software defined radio board. LimeSDR Mini development board provides a hardware platform for developing and prototyping high-performance and logic-intensive digital and RF designs based on Lattice Semiconductor's ECP5 FPGA and Lime Microsystems transceiver.


LimeSDR Mini board features:
RF and BB parameters:

Configuration: SISO (1x TX, 1x RX)

Frequency range: 10 MHz – 3.5 GHz

Bandwidth: 30.72 MHz

Sample depth: 12 bit

Sample rate: 30.72 MSPS

Transmit power: max 10 dBm (depending on frequency)

USB 3.0 controller: FTDI FT601

FPGA: board is designed for Lattice ECP5 family LFE5U-25F/LFE5U-45F/LFE5U-85F FPGAs in 285-ball csfBGA package. By default board is assembled with LFE5U-45F-MG285 FPGA. Lattice ECP5 LFE5U-45F features:

285-pin csfBGA package (10 x 10 mm, 0.5 mm)

44 K LUTs logic capacity

108 sysMEM Blocks (18 Kb)

1944 Kb Embedded Memory

351 Kb distributed RAM

72x 18x18-bit multipliers

4x PLLs and 4x DLLs

118 IOs

FPGA configuration via JTAG

RF transceiver: Lime Microsystems LMS7002M

EEPROM Memory: 2x 128Kb EEPROMs for LMS MCU firmware and FPGA data (optional)

FLASH Memory: 128Mb Flash memory for FPGA configuration

Temperature sensor: LM75

General user inputs/outputs:

3x Dual colour (RG) LEDs

8x + 2x FPGA GPIO pinheaders (3.3V) (optional)

Connections:

USB 3.0 (type A) plug

Coaxial RF (SMA female) connectors

FPGA GPIO headers (unpopulated)

FPGA JTAG connector (unpopulated)

FAN (5V default or 3.3V) connector

Clock system:

40.00MHz on board VCTCXO

VCTCXO can be tuned by onboard DAC

Reference clock input and output connectors (U.FL)

Board size: 69mm x 31.4mm

Board power source: USB connector (5V)
For more information on the following topics, refer to the corresponding documents:
Board Overview¶
The heart of the LimeSDR Mini board is Lattice ECP5 (LFE5U-45F) FPGA. It's main function is to transfer digital data between the PC through a USB 3.0 connector. The block diagram for LimeSDR Mini board is presented in the Figure 3.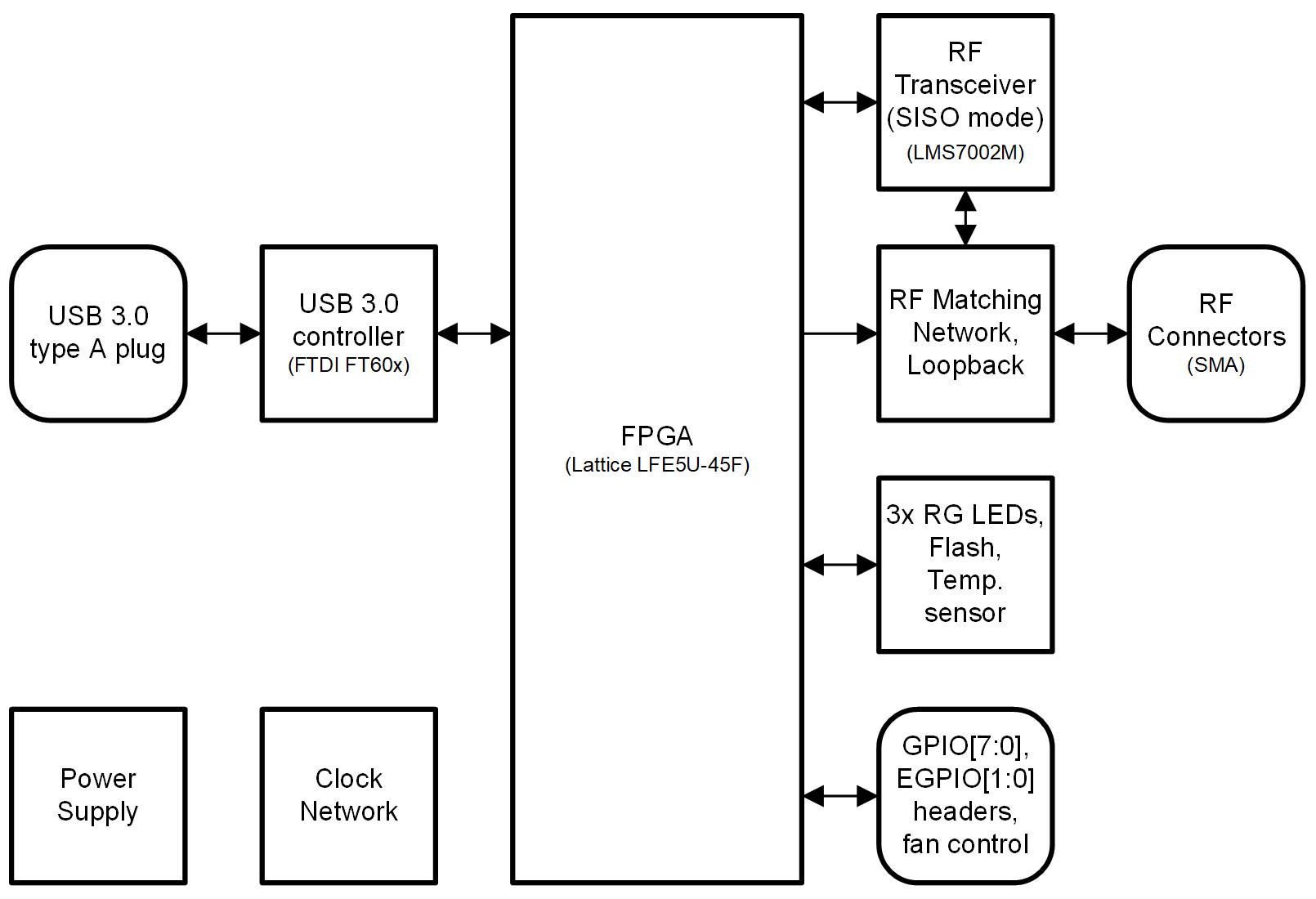 This section contains component location description on the board. LimeSDR Mini board picture with highlighted connectors and main components are presented in Figure 4 and Figure 5.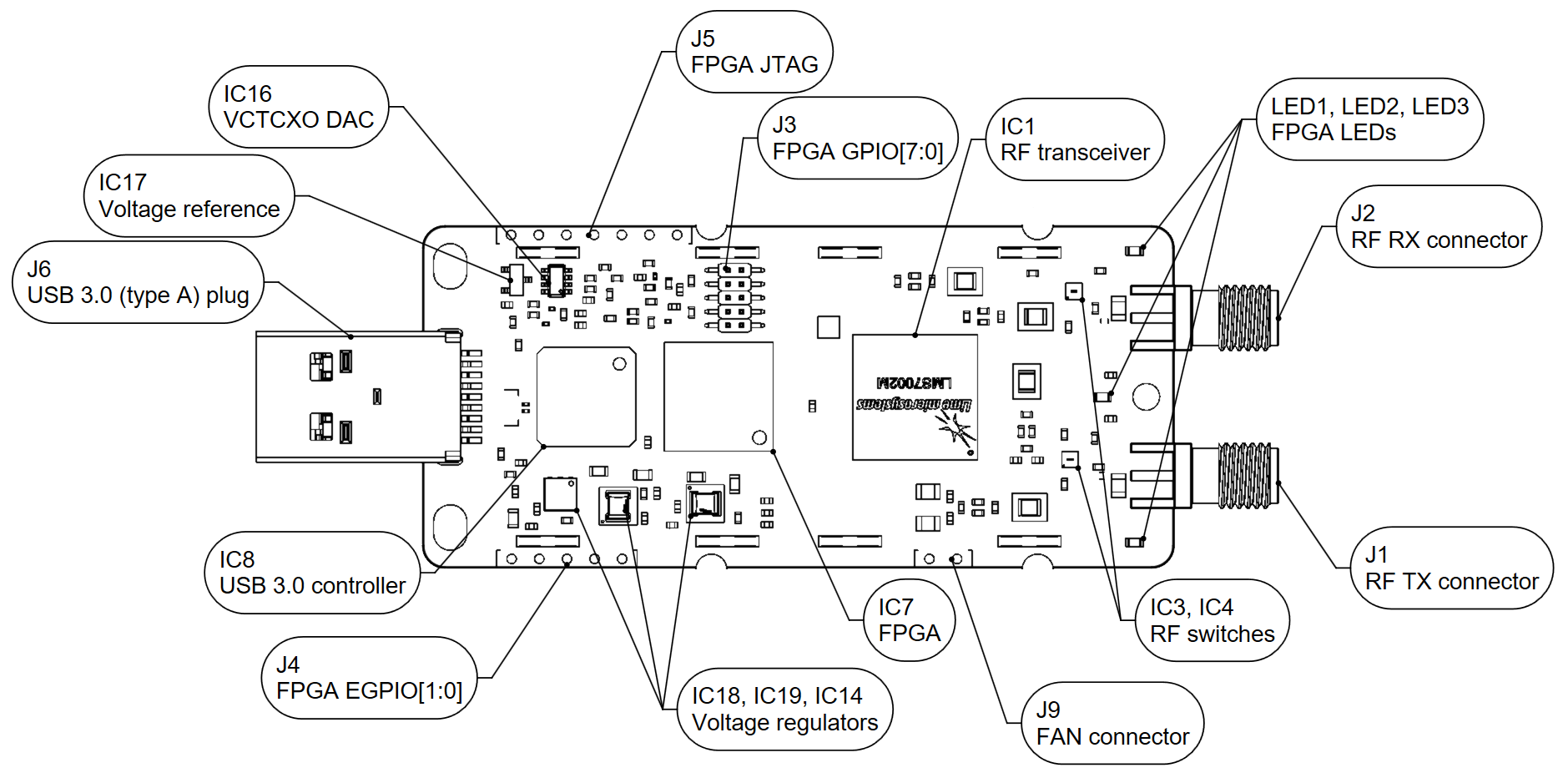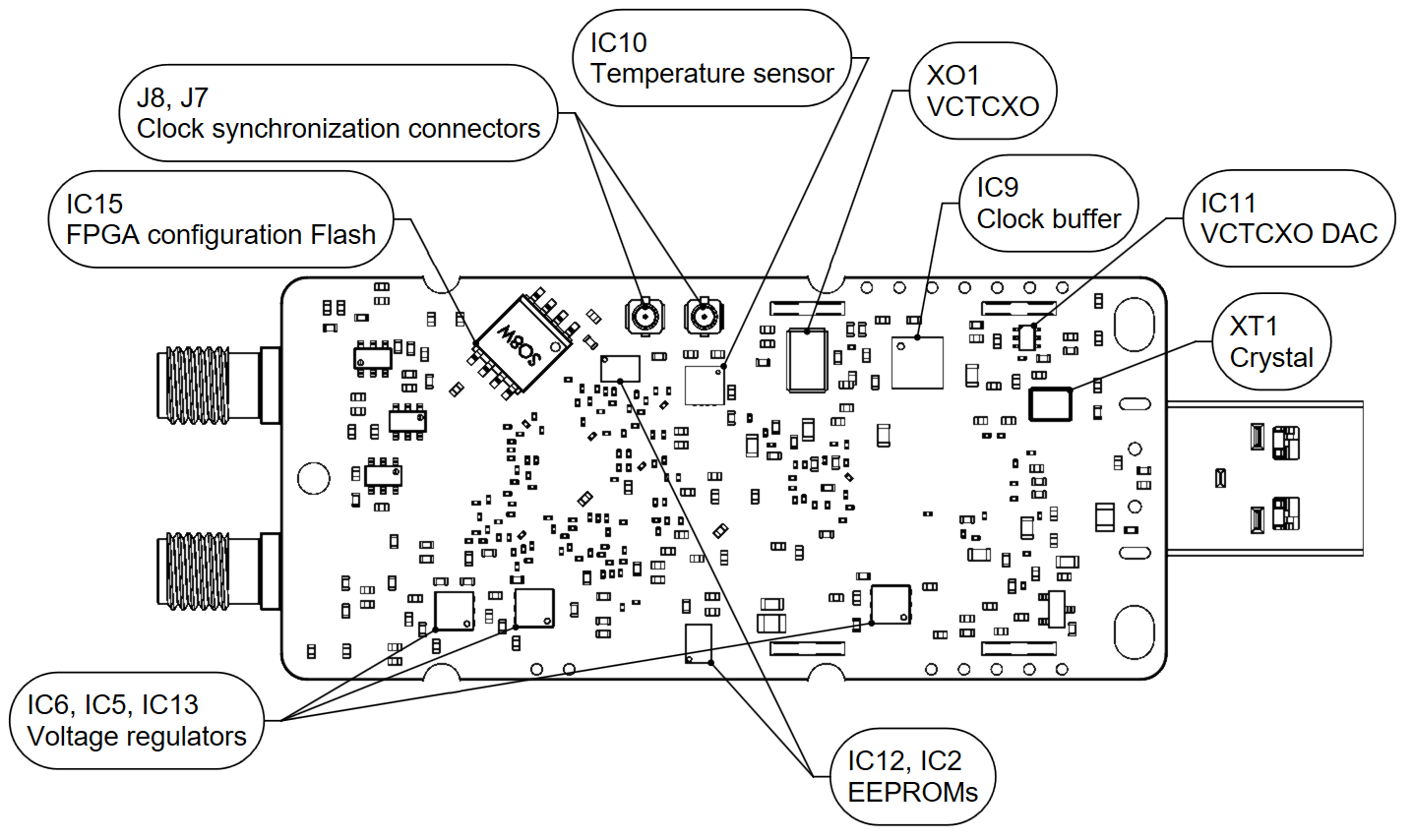 Description of board components is given in the Table 1.
¶

| Featured Devices | | |
| --- | --- | --- |
| Board Reference | Type | Description |
| IC1 | RF transceiver | Lime Microsystems LMS7002M |
| IC7 | FPGA | Lattice Semiconductor's LFE5U (LFE5U-45F) |
| IC8 | USB 3.0 microcontroller | FTDI USB 3.0 to FIFO interface bridge chip FT601 |
| Miscellaneous devices | | |
| IC10 | IC | Temperature sensor LM75 |
| Configuration, Status and Setup Elements | | |
| J5 | JTAG chain connector | FPGA programming pin header on the board edge for JTAG cable, 0.1" pitch |
| LED1, LED2, LED3 | Red-green status LEDs | User defined FPGA indication LED. |
| General User Input/Output | | |
| J3 | Pin header | 8x FPGA GPIOs, 3.3V, 0.05" pitch |
| J4 | Pin header | 2x FPGA GPIOs on the board edge, 3.3V, 0.1" pitch |
| J9 | Pin header | 5V (3.3V voltage can be chosen by resistors) fan connection pin headers, 0.1" pitch |
| Memory Devices | | |
| IC2 | IC | I²C EEPROM Memory 128Kb (16 x 8), connected to RF transceiver I2C bus |
| IC12 | IC | I²C EEPROM Memory 128Kb (16K x 8), connected to FPGA I2C bus |
| IC15 | IC | Quad SPI Flash Memory 128 Mb (16M x 8) connected to FPGA SPI |
| Communication Ports | | |
| J6 | USB 3.0 connector | USB 3.0 (type A) plug |
| Clock Circuitry | | |
| XO1 | VCTCXO | 40.00 MHz Voltage Controlled Temperature Compensated Crystal Oscillator |
| IC11 | IC | 10 bit DAC for TCXO (XT4) frequency tuning (default) |
| IC16 | IC | 16 bit DAC for TCXO (XT4) frequency tuning (unpopulated) |
| IC17 | IC | Voltage reference (unpopulated) |
| IC9 | IC | Clock buffer |
| J8 | U.FL connector | Reference clock input |
| J7 | U.FL connector | Reference clock output |
| Power Supply | | |
| IC14 | IC | Switching regulator LMZ20501 (1.8V rail) |
| IC19 | IC | Switching regulator LMZ20501 (3.3V rail) |
| IC13 | IC | Linear regulator LD39100PUR (1.1V rail) |
| IC5 | IC | Linear regulator LD39100PUR (1.25V rail) |
| IC6 | IC | Linear regulator LD39100PUR (1.4V rail) |
| IC18 | IC | Linear regulator LD39100PUR (2.5V rail) |